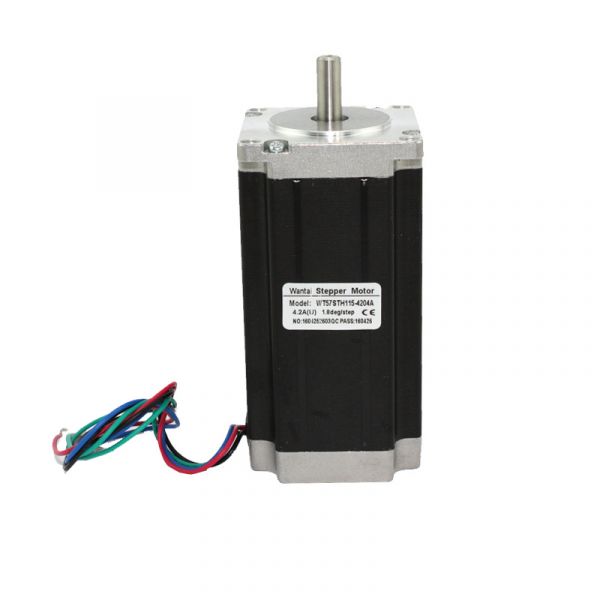 Description: High performance Nema 23 stepper motor WT57STH115-4204A from Wantai...
more
Product information "Nema 23 Stepper motor WT57STH115-4204A"
Description:
High performance Nema 23 stepper motor WT57STH115-4204A from Wantai
The Nema 23 stepping motors from Wantai are of a high standard and are ideally suited as a powerful alternative to the smaller Nema 17 stepping motors.
The WT57STH115-4204A stepper motor offers a very high output with a holding torque of up to 300Ncm and 1.8 degrees per step.
The Nema 23 2-phase hybrid motors have a much higher torque than conventional stepping motors and are ideal for CNC machines, 3D printers and high-load applications.
Further technical data can be found in the data sheet.
Details:
Nema 23 stepper motor
Model: WT57STH115-4204A
High quality
Holding torque: 300Ncm
Step angle: 1.8 °
Voltage: 3.78V
Current per phase: 4.2A
Length: 112mm
Width: 56.4mm
Height: 56.4mm
Shaft diameter: 8mm
Scope of Delivery:
1x Nema 23 stepper motor with connecting cable
if ($battg): ?>
Note on disposal of used batteries
The following note is intended for those who use batteries or products with built-in batteries and are no longer reselling it in their form (End user):

1. Free return of used batteries : Batteries must not be disposed of via the household waste. You are legally obliged to return old batteries, so that proper disposal can be ensured. You can dispose of old batteries at a municipal collection point or at the premises of your specialized retailer. We are also obliged, as distributors of batteries, to take back old batteries, whereby our obligation to return is limited to old batteries of the kind which we have or have carried as new batteries in our assortment. Old batteries of the above types can therefore either be sent back to us sufficiently stamped, or they can be delivered free of charge directly at our dispatch warehouse at the following address:

anzado GmbH
Römerstadt 2
66121 Saarbrücken

2. Meaning of battery symbols Batteries are marked with the symbol of a crossed-out refuse bin (see below). This symbol indicates that batteries must not be disposed of with household waste. In the case of batteries containing more than 0.0005% by weight of mercury, more than 0.002% by mass of cadmium or more than 0.004% by weight of lead, the chemical name of the particular pollutant used is indicated on the battery symbol - "Cd" for cadmium, "Pb "Stands for lead, and" Hg "for mercury."
endif; ?>
Related links to "Nema 23 Stepper motor WT57STH115-4204A"
Available downloads: